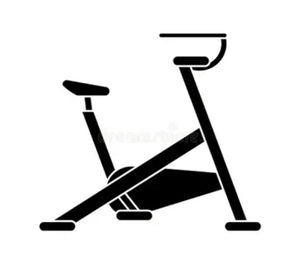 NEW!
To the Reps With Alison Fitness Studio! 
Spin and Sculpt. 
We are absolutely thrilled to have commercial grade, Spin bikes at the Reps Studio. 
After years of contemplating this fabulous workout, we've made this happen.
Join this 45 minute Spin & Sculpt Program where spinning meets body-sculpting. 
Enjoy timed spin intervals, with full-body, resistance training off of the bike. 
Bands, light dumbbells and bodyweight movements off the bikes, are just what your body has ordered for this endorphin boosting, calorie-burning workout. 
*All fitness levels welcome! 
 *8 Week Program.
Please bring indoor shoes. We do not allow outdoor shoes in the Studio.  Thank you.
When: 
8 Weeks on Sundays, from Jan 14th - March 3rd, 9:30 a.m. - 10:20 a.m.
Where:
The Reps With Alison Fitness Studio, 1012 Notre Dame Street, Embrun Ontario 
Instructor:
Certified Personal Trainer and Fitness Instructor,  Nicole.