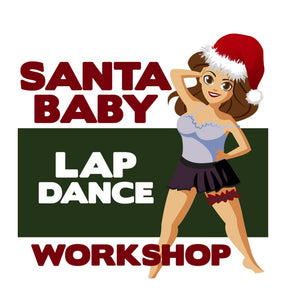 The Santa Baby Lap Dance Workshop was sold out last winter AND the winter before!
This year we are bringing back the Santa Baby, a little chair dance and a little lap dance, in a choreographed Workshop just in time for the festive season.
Spice up your holidays with this festive beginner Chair and Lap Dance Workshop.
This fun, flirty and a little naughty, choreographed chair and lapdance routine, will be perfect for the Santa Baby in your life.
Feel empowered and confident in our private, judgment-free studio.
Layer up for this one Ladies!
Bring a robe, Santa hat and heels are always optional.
This one will sell out fast! 
Get your holidays fired up with another one of our amazing workshops!
When: Thursday Nov 23rd, 7 p.m. - 8:30 p.m. 
Where: 1012 Notre Dame Street, Embrun at the Reps With Alison Fitness Studio