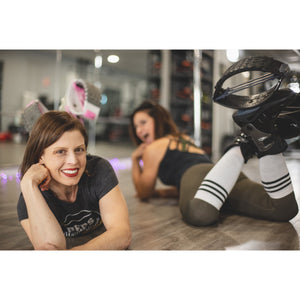 Hello Ottawa! 
We are beyond pleased to bring you the super FUN, SAFE, world-famous Kangoo Jumps® to the Capital City. 
After 6 years of hosting Kangoo Jumps in Russell Township,  Kangoo Club Ottawa will now be a division of the Reps With Alison Fitness Studio, and Headquarters for New Kangoo Club Canada, the official Kangoo Jumps® Canadian Distributor.
To start, we are offering a DROP-IN class on Tuesday, December 5th at Crossfit Actus, conveniently right off of highway 417.
Stay tuned! We have our first Ottawa Kangoo Jumps® program opening January 2024. 
*ALL fitness levels welcome. 
*Boot rental available. 
When: Tuesday, December 5th, 7:30 p.m. -  8:20 p.m. 
Where: 1590 Liverpool Court, Bay #7, Ottawa On.
PARKING on SITE.
$15 DROP-IN FEE with a non-perishable food item for the Ottawa Food Bank.
OR $20 drop-in fee - No non-perishable food item.
Thank you for supporting our local Food Bank during the Holiday Season. ❤️
Please note we have all Boot sizes and can accommodate up to 320lbs.