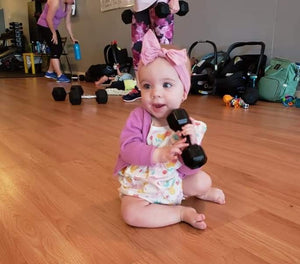 Program Length
Once (1x) per week for 8 weeks.
Program Description
Got a little one and looking to do some resistance training? Then you should definitely try the Moms and Babes Weight Training Program held at the Reps with Alison Fitness Studio in Embrun. Use equipment like free weights and machines for resistance training to burn body fat, tone, define and gain strength and endurance!
This fun, popular gym program is celebrating five 9 years in Russell Township. 🥳
The Moms and Babes Weight Training program is different than our Moms and Babes Fitness Classes. Here we use dumbbells, barbells, machines, cables, bands and other equipment in a private studio setting! By comparison, the Moms and Babes Fitness classes are more cardio-focused and use ONLY body weight resistance and baby weight resistance.
Moms and Babes Weight Training focuses on your goals. These semi-private classes include structured programs for your to progress within the 8 weeks. 
All fitness levels are welcome. The classes ARE limited in size to allow you an effective and enjoyable workout setting for everybody. Important reminder - you are still responsible for your child during the class!
CLASS SIZES ARE SMALL AND PERSONAL!


Class Day and Time
Fridays 9:30 a.m. - 10:20 a.m. (Nov 3rd - Dec 22nd, 2023) 

Class Location
Reps With Alison Fitness Studio, 1012 Notre Dame Street, Embrun