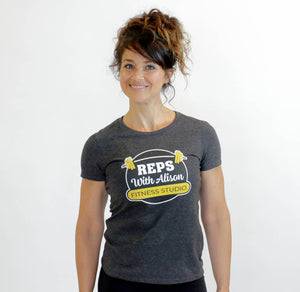 This Charcoal-coloured T-shirt is made with a 50/50 cotton and polyester blend. 
The logo is printed with water-based, 100% non-toxic inks using a near Zero Waste process.
The T-shirt is a Fair Wage garment - no sweatshops or child labour were involved in making it.
Handling: Wash cold, tumble dry low. No bleach. Don't iron over the image.
Alison is wearing a medium in the photo.